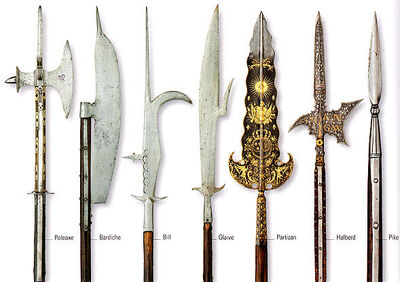 Description
These heavy weapons require both hands to wield and allow you to attack from the rear ranks of a party. Anyone can use a polearm but a few Fighters and Monks seem to favour them in particular. Polearms can fit in most bags but be aware their weight means that they take up a lot of space in them.
The only Races with modifiers to this skill are Centaurs (+10) and Giants (+10).
Fighters may also Specialise in Polearm twice, gaining +5 each time they do so.
Certain magical effects have been known to grant a temporary +5 bonus too. (Q.I)
| Name | Skill | Weight | Mob | Area | Type | Notes |
| --- | --- | --- | --- | --- | --- | --- |
| Bardiche | 0 | 1st | Big Kobold | Newbie Forest, Kobold Camp | Slash | |
| Halberd | 0 | 1st | Hungry Guard | Withered Peaks, Dwarf Outpost | Slash | |
| Halberd | 0 | 1st | Guard | NewbieLand, Gnoll Camp | Slash | |
| Light Spear | 0 | 1st | Norbert (Vendor) | Mirrortown | Slash | |
| Rusty Spade | 0 | 1st | N/A | Outlands, Cemetery | Slash | "dig" |
| Spear | 0 | 1st | Gorilla | Jungle | Slash | |
| Weaponsmith ?? made for (Name) | 0/80 | | Dan (Vendor) | Drakenwood | | Wears extremely quickly, crafted based on buyers Skill level (caps at 80) |
| Wooden Spear | 0 | 1st | Kobold Sentry | Newbie Forest, Kobold Camp | Slash | |
| Heavy Lance | 5 | 1st | Centaur | Mirrortown, Tower of Trials (6U) | Slash | |
| Old Halberd | 5 | 1st | Large Orc | Withered Peaks, Gnome Village | | Damage/less damage/poison specials |
| Orc Spear | 5 | 1st | Various Orcs | Great Western Highway, Orc Invasion Event | | |
| Short Spear | 5 | 1st | Cannibal | Jungle, Cannibal Village | | |
| Amazon Spear | 10 | 1st | Imelda | Jungle, Amazon Village | Slash | |
| Battle Spear | 10 | 1st | Malataur | Mirrortown, Tower of Trials (7D) | Slash | |
| Long Pike | 10 | 1st | Guard | Miathorn, Castle | Slash | |
| Long Spear | 10 | 1st | Palefaced Lizardman | Jungle, Ruby Cave | Slash | |
| Oakwood Lance | 10 | 1st | Norbert (Vendor) | Mirrortown | Pierce | |
| Wooden Hoe | 10 | 1st | Farmer | Rosfarren, Caer Aesclinn | | |
| Long Spear Made from Oak | 15 | 1st | Centaur | Alluveai's Forest | | |
| Pitch Fork | 15 | 2st | Jed or Crazy Farmer | Drakenwood, Milton Farm or Meadow | | |
| Sharp Halberd | 15 | 2st | Large Orc | Withered Peaks, Gnome Village | Slash | |
| Long Glaive | 20 | 2st | Orc Squad-Leader | Withered Peaks, Gnome Village | Slash | |
| Halberd | 25 | 2st | Onig | Aldersford, Fighter Guild | Slash | |
| Rusty Iron Spear | 25 | 2st | Fierce Mungo | Drakenwood, Windmill | | |
| Janitor's Broom | 30 | 2st | Marshall | Drakenwood, Museum | | Unusual damage descs. |
| Long Oak Spear | 30 | 2st | Lesser Wight | Omanii Desert, Buried Pyramid | | |
| Pitchfork | 30 | 2st | Villager | Alforpia, Plague Village | Slash | |
| Short Spear | 30 | 2st | Mungo Guard | Drakenwood, Windmill | | |
| Silver Trident | 35 | 2st | Merking | Andurin Ocean, Merking's Boulder | Pierce | |
| Spear of Lightning | 35 | 2st | Aesir Giant & Frost Giant | Mirrortown, Tower of Trials (14U or 13D) | Slash | |
| Wooden Spear | 35 | 2st | Various Cannibals | Jungle, Cannibal Village | Slash | |
| Barbed Glaive | 40 | | | Great Western Highway, Orc Invasion Event | | |
| Barbed Glaive | 40 | 2st | Orog | Valena, Rolling Hills | | |
| Cruel Glaive | 40 | 2st | Orog | Valena, Rolling Hills | | |
| Heavy Spear | 40 | 2st | Fur Trapper | Tyrnafar | Pierce | |
| Large Fencepole | 40 | 2st | Doober | Drakenwood, Sewers | | |
| Long Spear | 40 | 2st | Various Cannibals | Jungle, Cannibal Village | Slash | |
| Sea Elf's Hook | 40 | 2st | Sea Elf Sentry | Andurin Ocean, Deep Cavern | Slash | |
| Vicious Glaive | 40 | 2st | Orog | Valena, Rolling Hills | | |
| Wicked Glaive | 40 | 2st | Orog | Valena, Rolling Hills | | |
| Bladed Polearm | 45 | 3st | Various Orcs | Great Western Highway, Orc Invasion Event | Slash | |
| Glaive | 45 | 3st | Sentry | Tyrnafar, Barbarian Camp | Slash | |
| Guardsman's Spear | 45 | 3st | Various Guardsmen | Tyrnafar, Alaric's Keep | Slash | |
| Heavy Glaive | 45 | 3st | Vlagg | Tyrnafar, Bear Keep | Slash | |
| Heavy Iron Polearm | 45 | 3st | Court Patrol Guard | Sherwood, Notttingham Castle | Slash | |
| Long Jagged Spear | 45 | 3st | Spearman | Swamp, :Lizardmen Caves or Jungle, Ruby Caves | Slash | |
| Orc Halberd | 45 | 3st | Various Orcs | Great Western Highway, Orc Invasion Event | Slash | |
| Pointed Halberd | 45 | 3st | Bodyguard | Drakenwood | Slash | |
| Serrated Spear | 45 | 3st | Cannibal Guard | Jungle, Cannibal Village | Slash | |
| Sharp-Edged Hoe | 45 | 3st | Reoagn Donnagh | Rosfarren, Farm | Slash | |
| Light Glaive | 50 | 3st | Uggoru | Tyrnafar, Bear Keep | Slash | |
| Oaken Shaft Spear | 50 | 3st | Sergeant | Drakenwood, Sewers | | |
| Small Blue Trident | 50 | 3st | Water Sprite | Rosfarren, Abandoned Mine | Pierce | |
| Enchanted Spear | 55 | 3st | Headman | Jungle, Cannibal Village | Slash | Always Enchanted |
| Long Pike | 55 | 3st | Menacing Orog | Rosfarren, Orog Camp | | |
| Miners Hoe | 55 | 3st | Skeleton | Tyrnafar, Silver Mine | Slash | |
| Old Spear | 55 | 3st | Elderly Cannibal | Jungle, Cannibal Camp | | |
| Splinter of Wood | 55 | 3st | Sailor Corpse | Andurin Ocean, Deep Cavern | Slash | Wears fast |
| Wooden Spear | 55 | 3st | Purple Ogre | Andurin Ocean, Deep Cavern | Slash | |
| Arachnid Spear | 60 | 3st | Spider King | Swamp | Slash | |
| Engraved Spear | 60 | 3st | "pull spear" | Jungle, Pygmy Camp | Slash | Pulling Spear triggers trap, lethal without teleport, lockpick or knowledge |
| Heavy Halberd | 60 | 3st | Guardian | Swamp, Lizardmen Caves | Slash | |
| Long Halberd | 60 | 3st | Fighter | Sherwood, Cardin's Land | Slash | |
| Voulge | 60 | 3st | Guard | Valena, Katkunra's Tomb | | |
| Longspear | 65 | 5st | Pearse | Rosfarren, Dun Glenderry | | |
| Mahogany Spear | 65 | 4st | Native Hunter | Andurin Ocean, Wolumbo Island | Slash | |
| Sharp Spear | 65 | 2st | Finn Long-Legs | Andurin Ocean, Heipvarga Island | Slash | |
| Wooden Spear | 65 | 4st | Chief Bjorn | Tyrnafar, Bear Keep | Slash | |
| Yari | 65 | 4st | Xiang | Rosfarren, Obsidian Caves | | |
| Ash Javelin | 70 | 4st | Centaur Scout | Alforpia, Wild Forest | Slash | |
| Gisarme | 70 | 4st | Valiant Sea Elf | Andurin Ocean, Deep Cavern | Slash | |
| Long Wooden Spear | 75 | 4st | Centaur Warrior | Alforpia, Grassy Plains | Slash | |
| Smooth Javelin | 75 | 4st | Native Warrior | Andurin Ocean, Wolumbo Island | Slash | |
| Wicked Trident | 75 | 4st | Various Sahuagin | Andurin Ocean, Caverns of Night | Slash | |
| Yari of Shadow | 75 | 4st | | Rosfarren, Obsidian Caves | Slash/Cold | Increased Damage special |
| Bloodied Trident | 80 | 4st | Veteran Sahuagin | Andurin Ocean, Caverns of Night | Slash | |
| Cruel Halberd | 80 | 4st | Redcap | Crystal Caverns | | |
| Iron Trident | 80 | 4st | Salamander | Omanii Desert, Volcano | Slash | |
| Light Ash Spear | 80 | 4st | Various Centaurs | Alforpia, Wild Forest & Centaur Camp | | |
| Coral Trident | 85 | 4st | Baron | Andurin Ocean, Caverns of Night | | |
| Heavy Steel Halberd | 85 | 4st | Burnum | Valena, Brenhaven | Slash | |
| Rock Poleaxe | 85 | 4st | Dwarf Chief | Omanii Desert, Dark Caves | Slash | |
| Silver Halberd | 85 | 4st | Centaur Champion | Alforpia, Centaur Camp | Slash | Magic Damage special |
| Trusty Halberd | 85 | 4st | Various Guards | Valena, Brenhaven | | |
| | 90 | | | | | |
| Steel Spear | 95 | 5st | Gereint | Valena, Silendria Keep | | |
| | 100 | | | | | |
| | 105 | | | | | |
| Polearm | 110 | 6st | Satansfist | Sherwood, Burial Chambers | Slash | |
| Double Bladed Halberd | 115 | 6st | Ector | Valena, Silendria Keep | | |
| Ancient Halberd | 120 | 6st | Skeletal Warrior | Underdark, Crypt | | |
| Black Spear | 125 | 6st | Guard Martol | Aerdy, Erindar | Slash | |
| Guard's Spear | 125 | 6st | Guard Hugo | Aerdy, High Pass | Slash | |
| | 130 | | | | | |
| | 135 | | | | | |
| | 140 | | | | | |
| Long Silver Trident | 145 | 8st | Sea Giant | | Pierce | Cursed? |
| Long Handled Axe | 145 | 8st | Kerso Blackhelm | Aerdy, Ruins of Moratherin | Slash | |
| | 150 | | | | | |
| Guardsman's Pilum | 155 | 8st | Aadi | Aerdy, Nenreph Fortress | | |
| | 160 | | | | | |
| | 165 | | | | | |
| | 170 | | | | | |
| | 175 | | | | | |
| | 180 | | | | | |
| | 185 | | | | | |
| | 190 | | | | | |
| | 195 | | | | | |
| | 200 | | | | | |