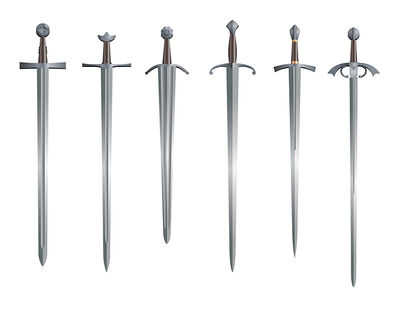 Description
These Slashing and Piercing weapons are wielded in one hand and tend to be unremarkable in their weight. The stronger the wielder, the more damage a Blade will do and both Fighters and Rangers tend to have a great many skills with Blades. Scabbards such as those from Mirrortown may be used to house these weapons, as well as most bags.
Races with modifiers to this skill are Drow (+5), Dwarves (+10) and Satyrs (+5).
Fighters may also Specialise in Blade twice, gaining +5 each time they do so.
Certain magical effects have been known to grant a temporary +5 bonus too. (Q.I)
| Name | Skill | Weight | Mob | Area | Type | Notes |
| --- | --- | --- | --- | --- | --- | --- |
| Battered Longsword | 0 | 1st | Orc Warrior | Mirrortown, Tower of Trials (6D) | Slash | |
| Battered Sword | 0 | 1st | Guard | Alforpia, Castle | Slash | |
| Blade of Justice | 0/120 | 2st | "toolup" | Drakenwood, Council Chambers | Slash | Issued via warrant, only hits Outlaws, may have specials vs Outlaws |
| Bone Sword | 0 | 1st | Skeletal Warrior | Mirrortown, Tower of Trials (2D) | Slash | |
| Cast Iron Sword | 0 | 1st | Guard | NewbieLand, Gnoll Camp | Slash | |
| Chisel | 0 | 1st | "get chisel" | Drakenwood, Old House | Slash | |
| Crab Pincer | 0 | 1st | Crab | Andurin Ocean, Covah Island | Slash | |
| Curved Sword | 0 | 1st | Regnus | NewbieLand, Nomad Camp | Slash | Damage special |
| Elven Rapier | 0 | 1st | Elf Scout | Mirrortown, Tower of Trials (5U) | Slash | |
| Elven Sword | 0 | 1st | Elven Ranger | Newbie Forest, Elf Camp | Slash | |
| Gladius | 0 | 1st | Various | Newbie Forest, Kobold Camp & Tower | Slash | |
| Gnome Sword | 0 | 1st | Various Gnomes | Alders Way, Gnome House | Slash | |
| Goblin Short Sword | 0 | 1st | Soldier | Withered Peaks, Goblin Caves | Slash | |
| Goblin Sword | 0 | 1st | Goblin Fighter | Drakenwood, Meadow | Slash | |
| Hand Axe | 0 | 1st | Gnoll Guard | NewbieLand, Gnoll Camp | Slash | |
| Hermit Pincer | 0 | 1st | Hermit Crab | Torelorn Mountains, Crab Cliffs | | |
| Iron Longsword | 0/5 | 1st | Norbert (Vendor) | Mirrortown | Slash | |
| Kobold Sword | 0 | 1st | Various Kobolds | NewbieLand, Kobold Tower | | |
| Light Rapier | 0 | 1st | Elven Scout | Newbie Forest | Slash | |
| Light Shortsword | 0 | 1st | Norbert (Vendor) | Mirrortown | | |
| Old Sword | 0 | 1st | Ghost Lord | Drakenwood, Old House | Slash | |
| Orc Longsword | 0 | 1st | Orc Guard | Valley of the Orcs, Fortress | Slash | |
| Pirate's Cutlass | 0 | 1st | Various Pirates | Drakenwood, Docks | Slash | |
| Rusty Short Sword | 0 | 1st | Kobold Chief | Newbie Forest, Kobold Camp | Slash | |
| Shiny Sword | 0 | 1st | Errant Knave | Aldersford, Maze | Slash | |
| Skeletal Sword | 0 | 1st | Skeleton | NewbieLand | Slash | |
| Steel Cleaver | 0 | 1st | Cook | Aldersford, Temple of Rehann | Slash | |
| The Sword called Griksbane | 0/70 | 4st | N/A | Q.I | Slash | Kills Griks |
| Weaponsmith sword made for (Name) | 0/80 | | Dan (Vendor) | Drakenwood | | Wears extremely quickly, crafted based on buyers Skill level (caps at 80) |
| Woodcutters Axe | 0 | 1st | "get axe" | Alluveai's Forest, Woodcutters Hut | Slash | |
| Wooden Sword | 0 | 1st | Alice | Drakenwood, Keep | Slash | |
| Bone Sabre | 5 | 1st | Guardian | Omanii Desert, Pharaoh's Pyramid | Slash | |
| Crude Hobgoblin Sword | 5 | 1st | Hobgoblin Guard | Withered Peaks, Goblin Caves | Slash | |
| Dwarven Sword | 5 | 1st | Clumsy Guard | Mirrortown, Dwarf Outpost | | |
| Fine Sword | 5 | 1st | Kobold Elite | NewbieLand, Kobold Tower | | |
| Goblin Axe | 5 | 1st | Goblin Chief | Withered Peaks, Goblin Caves | Slash | |
| Heavy Cutlass | 5 | 1st | Captain Rooney | Drakenwood, Docks | Slash | |
| Iron Axe | 5 | 1st | Goblin Chief | Withered Peaks, Goblin Caves | Slash | |
| Orc Scimitar | 5 | 1st | Various Orcs | Great Western Highway, Orc Invasion Event | | |
| Sawtooth | 5 | 1st | Brun | Newbie Forest, Kobold Tower | Slash | Damage specials |
| Steel Hobgoblin Sword | 5 | 1st | Guard | Withered Peaks, Goblin Caves | Slash | |
| Well-Worn Broadsword | 5 | 1st | Bandit | Alderford, Deep Gulley | Slash | |
| Bone Scimitar | 10 | 1st | Skeleton | Omanii Desert, Pharaoh's Pyramid | Slash | |
| Goblin Sword | 10 | 1st | Goblin Sergeant or Leader | Drakenwood, Meadow | Slash | |
| Light Rapier | 10 | 1st | Norbert (Vendor) | Mirrortown | Pierce | |
| Silver Coloured Sword | 10 | 1st | Skeleton | Alluveai's Forest | Slash | |
| War Axe | 10 | 1st | Large Orc | Withered Peaks, Gnome Village | Slash | |
| Amazon Captain's Sword | 15 | 2st | Melia | Jungle, Amazon Village | Slash | |
| Amazon Temple Sword | 15 | 2st | Sauda | Jungle, Amazon Village | Slash | |
| Fine Gnome Sword | 15 | 2st | Chief | Alders Way, Gnome House | Slash | |
| Guard Sword | 15 | 2st | Warehouse Guard | Drakenwood, Docks | Slash | |
| Hunter's Sword | 15 | 2st | Hunter | Hoary Forest, Tomb | Slash | |
| Orc Falchion | 15 | 2st | Various Orcs | Great Western Highway, Orc Invasion Event | | |
| Pair of Knitting Needles | 15 | 2st | Grandma | Alluveai's Forest, Addams House | Pierce | |
| Palace Guard Sword | 15 | 2st | Palace Guard | Aldersford, Maze | Slash | |
| Polished Hobgoblin Sword | 15 | 2st | Guard | Withered Peaks, Goblin Caves | Slash | |
| Short Sword | 15 | 2st | Inside Large Leather Bag | NewbieLand, Ant Tunnels | Slash | |
| Thin Shortsword | 15 | 2st | Jurgen | Drakenwood, Sewers | Slash | |
| Thin Sword | 15 | 2st | Various | Sherwood, Robin Hood's Camp | Slash | |
| Orc Broadsword | 18 | 3st | Various Orcs | Great Western Highway, Orc Invasion Event | | |
| Broad Sword | 20 | 2st | Lytira (Vendor) | Valena, Brenhaven | | |
| Double-Sided Axe | 20 | 2st | Large Orc | Withered Peaks, Gnome Village | | |
| Fine Sword | 20 | 2st | N/A | Valley of the Orcs, Fortress | Slash | Sought by a Town Guard |
| Fine Wakizashi | 20 | 1st | Toguri O Karnak | Rosfarren, Obsidian Caves | Slash | |
| Green Sword | 20 | 2st | Feisty Giant | Withered Peaks, Giant House | Slash | |
| Rusty Falchion | 20 | 2st | Skeleton | Omanii Desert, Buried Pyramid | Slash | |
| Rusty Longsword | 20 | 2st | Skeleton | Omanii Desert, Buried Pyramid | Slash | |
| Serrated Sword | 20 | 2st | Eldar Ragged Man | Withered Peaks, Rocky Outcrop | Slash | Damage specials |
| Steel Shortsword | 20 | 2st | Cobrun (Vendor) | Tyrnafar, Rathowen | | |
| Sword of the Wind | 20 | 2st | Bael | Drakenwood, Animal Sanctuary | Slash/Cold | Extra Damage specials |
| Double Axe | 25 | 2st | Lytira (Vendor) | Valena, Brenhaven | Slash | |
| Hobgoblin Chiefs' Sword | 25 | 2st | Hobgoblin Chief | Withered Peaks, Goblin Caves | Slash | |
| Meat Cleaver | 25 | 2st | Morticia | Alluveai's Forest, Addams House | Slash | |
| Orc Champion's Sword | 25 | 2st | Champion | Valley of the Orcs, Fortress | Slash | |
| Chief's Sword | 30 | 2st | Chief | Valley of the Orcs, Fortress | Slash | |
| Heavy Longsword | 30 | 2st | Court Guard | Sherwood, Nottingham Castle | | |
| Steel Scimitar | 30 | 2st | Mungo Guard | Drakenwood, Windmill | Slash | |
| Black Sword | 35 | 2st | Skeleton Captain | Drakenwood, Shipwreck | Slash | Damage specials, lowers your Con over time until unwielded then it regens slowly |
| Bone Sword | 35 | 2st | Headless Skeleton | Jungle, Cannibal Camp | Slash | |
| Broad Axe | 35 | 2st | Barbarian | Tyrnafar, Barbarian Camp | Slash | |
| Curved Black Sword | 35 | 2st | Zombie Lord | Omanii Desert, Buried Pyramid | Slash | |
| Curved Sabre | 35 | 2st | Barbarian Scout | Tyrnafar, Barbarian Camp | Slash | |
| Heroic Longsword | 35 | 2st | Logan | Drakenwood, Sewers | Slash | |
| Ornate Rapier | 35 | 2st | Durath | Aldersford, Durath's Cottage | Pierce | |
| Saracen's Scimitar | 35 | 2st | Nasir the Saracen | Sherwood, Robin Hood's Camp | Slash | |
| Steel Sword | 35 | 2st | Gomez | Alluveai's Forest, Addams House | Slash | Also found in nearby Drawers |
| Barbed Sword | 40 | 2st | Various Orogs | Valena, Rolling Hills | Slash | |
| Blackwing's Beak | 40 | 2st | Blackwing | Sherwood, Nottingham Castle | Slash | |
| Broadsword of the Ravens | 40 | 2st | Ravaged Wight | Omanii Desert, Buried Pyramid | Slash | |
| Charred Broadsword | 40 | 2st | Barbarian Sentry | Tyrnafar, Barbarian Camp | Slash | |
| Cruel Sword | 40 | 2st | Various Orogs | Valena, Rolling Hills | Slash | |
| Dull Longsword | 40 | 2st | Giant Thug | Drakenwood, Sewers | Slash | |
| Razor-Sharp Sabre | 40 | 2st | Ballistar | Drakenwood | Slash | |
| Sharpened Rapier | 40 | 2st | Riala | Drakenwood, Sewers | Pierce | |
| Short Sword | 40 | 2st | Royal Guard | Alforpia, Castle | Slash | |
| Wicked Sword | 40 | 2st | Various Orogs | Valena, Rolling Hills | Slash | |
| White Scimitar | 40 | 2st | Lysle | Outland, Rogue Caves | Slash/Fire | Extra damage/Fire damage specials |
| Vicious Sword | 40 | 2st | Various Orogs | Valena, Rolling Hills | Slash | |
| Broadsword | 45 | 3st | Various Orcs | Great Western Highway, Orc Invasion | | |
| Broadsword | 45 | 3st | Bank Guard | Alforpia, Castle | Slash | |
| Crude Metal Blade | 45 | 3st | Idett | Tyrnafar, Bear Keep | Slash | |
| Cutlass | 45 | 3st | Pirate | Andurin Ocean, Cutlass Island | Slash | |
| Diluvial Sword | 45 | 3st | Diluvial | Outland, Tomb of Thebus | Slash | |
| Guard Sword | 45 | 3st | Various Guards | Tyrnafar, Alaric's Keep | Slash | |
| Large Cleaver | 45 | 3st | Mad Halfling | Omanii Desert, Evil Nomad Camp | Slash | |
| Nadir Shortsword | 45 | 3st | Kironis | Omanii Desert, Buried Pyramid | Slash | |
| Sandshark Teeth | 45 | | Sandshark | Andurin Ocean, Covah Island | | |
| Stained Sword | 45 | 3st | N/A | Omanii Desert, Oasis of Marr | Slash | "jump in pool" |
| Sword | 45 | 3st | Various Orcs | Great Western Highway, Orc Invasion | | |
| Black Broadblade | 50 | 3st | Keruhulr | Tyrnafar, Bear Keep | Slash | |
| Bronze Rapier | 50 | 4st | Crazed Man | Rosfarren, Abandoned Farm | Slash | |
| Bronze Short Sword | 50 | 4st | Alsandair | Rosfarren, Dun Glenderry | | |
| Carved Longsword | 50 | 3st | Tharn Greenleaf | Wandering Woods, Pine Forest | Slash | |
| Crystal Strand | 50 | 3st | Rotting Corpse | Realm of Illusion | Slash | |
| Crystal Sword | 50 | 3st | Crystal Knight | Miathorn, Battlefield | Slash | |
| Damaged Longsword | 50 | 3st | Troglodyte Chieftain | Drakenwood, Sewers | Slash | |
| Heavy Wooden Sword | 50 | 3st | Big Guard | Alders Way, Wuzzietown | Slash | |
| Nomad Sword | 50 | 3st | Herder | Omanii Desert, Nomad Camp | Slash | |
| Rapier | 50 | 3st | Basement Guard | Andurin Ocean, Cutlass Island | | |
| Sharp Sword | 50 | 3st | Captain | Swamp, Lizardmen Caves | Slash | |
| Skeleton Sword | 50 | 3st | Skeleton | Outland, Tomb of Thebus | Slash | |
| Strong Bronze Sickle | 50 | 4st | Jacca | Rosfarren, Rathwiel | Slash | |
| Battered Bronze Longsword | 55 | 4st | Garth the Bandit Chief | Rosfarren | | |
| Battered Bronze Hand-Axe | 55 | 3st | Glowering Orog | Rosfarren, Orog Camp | | |
| Broadsword | 55 | 3st | Bank Guard | Mirrortown | Slash | |
| Bronze Axe | 55 | 3st | Orog Weaponmaster | Rosfarren, Orog Camp | | |
| Bronze Guard's Sword | 55 | 3st | Guard Orog | Rosfarren, Orog Camp | | |
| Bronze Sapara | 55 | 3st | Tough Orog | Rosfarren, Orog Camp | | |
| Bronze Shortsword | 55 | 3st | Padraig | Rosfarren, Dun Glenderry | | |
| Corrupt Wakizashi | 55 | 2st | | Rosfarren, Obsidian Caves | Slash | |
| Darkened Broadsword | 55 | 3st | Areh | Tyrnafar, Bear Keep | Slash | |
| Delicate Bronze Shortsword | 55 | 3st | Leogh | Rosfarren, Dun Glenderry | | unusual... |
| Heavy Shortsword | 55 | 3st | Tall Thug | Tyrnafar, Silver Mine | Slash | |
| Jagged Scimitar | 55 | 3st | Warrior | Swamp, Lizardmen Caves | Slash | |
| Katana | 55 | 3st | Tarakhul | Alforpia, Castle | Slash | |
| Long Sword | 55 | 3st | Raman the First Mate | Andurin Ocean, Cutlass Island | Slash | |
| Old Longsword | 55 | 3st | Large Thug | Tyrnafar, Silver Mine | Slash | |
| Plain Sword | 55 | 3st | Bodyguard | Omanii Desert, Nomad Camp | Slash | |
| Red Stinger | 55 | 3st | Red Abishai | Wandering Woods, Hidden Library | Slash | Poisoned |
| Red Sword | 55 | 3st | Guardsman | Omanii Desert, Temple of Ogkma | Slash | |
| Saiful Rin | 55 | 3st | Basajaun | Tyrnafar, Alaric's Keep | Slash | |
| Sea Elf's Rapier | 55 | 3st | Sea Elf Scout | Andurin Ocean, Deep Cavern | Slash | |
| Stabbing Sword | 55 | 3st | Shady Nomad | Omanii Desert, Evil Nomad Camp | Slash | |
| Steel Shortsword | 55 | 3st | Various Vikings | Andurin Ocean, Heipvarga Island | | |
| Black Falchion | 60 | 3st | Lizardking | Swamp, Lizardmen Caves | Slash | Extra APR & Damage specials |
| Blunt Steel Sword | 60 | 4st | Poacher Guard | Alforpia, Poacher Camp | Slash | Higher chance of limb breaks, lower damage |
| Bronze Broadsword | 60 | 4st | Brina | Rosfarren, Caer Aesclinn | Slash | |
| Fangs | 60 | 4st | Anaconda | Swamp | Slash/Bite | May resist Disarm? |
| Jawblade | 60 | 3st | Adorrur | Tyrnafar, Bear Keep | Slash | Damage specials |
| Longsword | 60 | | Seonovan | Andurin Ocean, Heipvarga Island | | Light Source |
| Speiss Shortsword | 60 | 3st | Ceriwin | Valena, Katkunra's Tomb | Slash | Always Poisoned |
| Sword of Garok | 60 | | Undead Smith | Drakenwood, Sewers | | Warmage Staff specials |
| Bronze Broadsword | 65 | 5st | Eamonn | Rosfarren, Dun Glenderry | | |
| Bronze Double-Edged Sword | 65 | 4st | Orog Captain | Rosfarren, Orog Camp | | |
| Bronze Small Sword | 65 | 5st | Donal | Rosfarren, Dun Glenderry | | |
| Bronze War Sword | 65 | 5st | Sulien | Rosfarren, Dun Glenderry | | |
| Firesword | 65 | 4st | Kallara | Miathorn, Battlefield | Slash/Fire | Damage specials |
| Green Stinger | 65 | 4st | Green Abishai | Wandering Woods, Hidden Library | Slash | Poisoned |
| Heavy Short Sword | 65 | 4st | Scout | Sherwood, Cardin's Land | Slash | |
| Icesword | 65 | 4st | Shallara | Miathorn, Battlefield | Slash/Cold | Damage specials |
| Katana | 65 | 4st | Various Samurai | Rosfarren, Obsidian Caves | Slash | |
| Light Scimitar | 65 | 4st | Aziz | Omanii Desert, Nomad Camp | Slash | |
| Longsword | 65 | 4st | Red Knight | Miathorn, Battlefield | Slash | |
| Longsword | 65 | 4st | Various Vikings | Andurin Ocean, Heipvarga Island | Slash | |
| Massive Axe | 65 | 4st | Various Orcs | Great Western Highway, Orc Invasion Event | Slash | |
| Old Bronze Broadsword | 65 | | Blaen Riagain | Rosfarren, Rathwiel | | |
| Rune-Sword of Krell | 65 | 4st | Redbeard | Andurin Ocean, Cutlass Island | Slash | +3 Str if Neg, -3 if Pos. Align, if Neutral or Str too high will sever your hand? |
| Steel Longsword | 65 | 4st | Various Vikings | Andurin Ocean, Heipvarga Island | | |
| Sword | 65 | 4st | Various Cultists | Jungle, Ruins of Sparsis | Slash | |
| Sword of the Sea Knight | 65 | 4st | Sea Elf Hero | Andurin Ocean, Deep Cavern | Slash | +4 Str, drains money & stuns if unwielded, if no cash may steal kit or sever limb with massive damage. "Invoke Caranthir" summons an interactive spirit |
| Demon Sword | 70 | 4st | Elfric the Demon | Outlands, Tomb of Thebus | Slash | May have specials for Neg. Align? |
| Ethereal Sword | 70 | 4st | Chilling Presence | Sherwood, Burial Chambers | Slash | Damages you when wielded |
| Karnak's Katana | 70 | 4st | Toguri O Karnak | Rosfarren, Obsidian Caves | Slash | |
| Rock Blade | 70 | 4st | Dwarf Guard | Omanii Desert, Dark Caves | Slash | |
| Rock Cleaver | 70 | 4st | Dwarf Guardsman | Omanii Desert, Dark Caves | Slash | |
| Shinto's Katana | 70 | 4st | Shikaku Shinto | Rosfarren, Obsidian Caves | Slash | |
| Arianseren Cleddyf | 75 | 4st | Aird Righ Tiarnan | Rosfarren, Dun Glenderry | Pierce | "double" |
| Bastard Sword | 75 | 5st | Graves | Jungle, Ruins of Sparsis | Slash | Hybrid Blade/2H, damage/heal specials based on moons/time, Immune to Disarm? |
| Black Stinger | 75 | 4st | Black Abishai | Wandering Woods, Hidden Library | Slash | Poisoned |
| Ceremonial Silver Sword | 75 | 4st | Parlaig | Rosfarren, Dun Glenderry | Slash | |
| Dwarven Broadsword | 75 | 4st | Rognus | Valena, Katkunra's Tomb | Slash | |
| Guard's Sword | 75 | 4st | Various Guards | Drakenwood | Slash | |
| Long Sabre | 75 | 4st | Captain | Sherwood, Cardin's Land | Slash | |
| Mitsokosi's Katana | 75 | 4st | Mitsokosi | Rofarren, Obsidian Caves | Slash | Grants "Corrupt Haste" Buff |
| Ornate Falchion | 75 | 5st | Eachann | Rosfarren, Caer Aesclinn | Slash | |
| Rock Glaive | 75 | 4st | Dwarf Door Guard | Omanii Desert, Dark Caves | Slash | |
| Rock Sword | 75 | 4st | Dwarf Sentry | Omanii Desert, Dark Caves | Slash | |
| Steel Broadsword | 75 | 4st | Knute | Andurin Ocean, Heipvarga Island | Slash | |
| Vratbak's Katana | 75 | | Vratbak | Rosfarren, Obsidian Caves | Slash | |
| Bone Blade | 80 | 4st | Warlord | Tyrnafar, Silver Mine | Slash | |
| Bronze Scimitar | 80 | 4st | Centaur Warrior | Alforpia, Wild Forest | Slash | |
| Darkblade | 80 | 4st | Gart Darkblade | Crystal Caverns | Slash | Ignores Armour |
| Heavy Steel Sabre | 80 | 4st | Farrel | Valena, Brenhaven | | |
| Light Katana | 80 | 4st | Thurgar the Fighter | Omanii Desert, Rocky Beach | Slash | |
| Light Sword | 80 | 4st | Rayzl the Scout | Omanii Desert, Rocky Beach | Slash | |
| Mithril Shortsword | 80 | 4st | Lord Ruadan | Rosfarren, Caer Aesclinn | slash | |
| Sprite Sword | 80 | 4st | Indigo | Crystal Caverns | Slash | Height restricted (short), specials for Faeries |
| Sword of Chaos | 80 | 4st | Chaot | Crystal Caverns | | |
| Black Scimitar | 85 | 4st | Drok | Drakenwood | Slash | Fighter specials, poisoned, may poison you |
| Blue Steel Scimitar | 85 | 4st | Chieftain Brand | Andurin Ocean, Svartgard | Slash | Extra damage special |
| Gleaming Shortsword | 85 | 4st | Various Guards | Valena, Brenhaven | | |
| Guard's Steel Longsword | 85 | 4st | Various Guards | Valena, Brenhaven | Slash | |
| Guard's Steel Shortsword | 85 | 4st | Various Guards | Valena, Brenhaven | | |
| Nightblade | 85 | 4st | Swordwraith | Andurin Ocean, Isle of Dread | Slash | Extra damage special when outside and at night |
| Rusted Steel Sword | 85 | 4st | Various Guards | Valena, Ruined Castle | | |
| Barbed Stinger | 90 | 5st | Head Abishai | Wandering Woods, Hidden Library | Pierce | Poisoned |
| Guardian's Longsword | 90 | 5st | Guardian | Andurin Ocean, Isle of Dread | Slash | |
| Ornate Steel Sword | 90 | 5st | Various Guards | Valena, Ruined Castle | Slash | |
| Steel Sword | 90 | 5st | Various Guards | Valena, Ruined Castle | Slash | |
| Ashen Sword | 95 | 5st | Loremaster | Omanii Desert, Volcano | Slash | |
| Silver Sword | 95 | 5st | Various Guards | Drakenwood | Slash | |
| Blessed Steel Sword | 95 | 5st | Guardian | Valena, Ruined Castle | | |
| Silver Sword | 95 | 5st | Various Guards | Drakenwood | Slash | |
| Zealot Blade | 95 | 5st | Regal | Valena, Ruined Castle | Slash | +2 Str if Saintly |
| Heavy Steel Saber | 100 | 5st | Cpt. Karne | Valena, Brenhaven | Slash | |
| Steel Longsword | 100 | 5st | Various Guards | Valena, Silendria Keep | Slash | |
| Wicked Longsword | 100 | 5st | Zerin | Great Western Highway | Slash | Poison/Extra damage specials. Destroyed by sunlight |
| Broadsword | 105 | 5st | Sir Promethius | Great Western Highway | Slash | |
| Captain Jaron's Sword | 105 | 5st | Cpt. Jaron | Drakenwood, Keep | Slash | |
| Sword of Darkness | 105 | 5st | Anti-Paladin | Omanii Desert, Volcano | Slash | Specials for Neg. Align? Height restricted (Tall) |
| Flaming Bastard Sword | 110 | 6st | Troll Chief | Mirrortown, Troll Caves | Slash/Fire | Hybrid Blade/2H weapon, damage specials |
| Jewelled Longsword | 110 | 6st | Sir Cadal | Valena, Silendria Keep | Slash | |
| Spirit Blade | 110 | 6st | Malrissa | Valena, Silendria Keep | Slash | Resist Wear, Magic Damage? |
| Engraved Longsword | 115 | 6st | Argalrax (Vendor) | Underdark, Ethelri-Cithan | Slash | |
| Heavy Sword | 115 | 6st | Duergar Guard | Underdark, Duergar Tunnels | Slash | |
| Ice Saw | 115 | 6st | Wilderness Fisherman | Aerdy, Frozen Lake | Cold/Slash | |
| Polished Falchion | 115 | 6st | Drow Guard | Underdark, Crypt | Slash | |
| Silver Scimitar | 115 | 6st | Cpt. Telak | Valena, Silendria Keep | Slash | Silver |
| Spriggan Shortsword | 115 | 6st | Spriggan | Underdark, Crypt | Slash | +2 Dex |
| Elven Ice Scimitar | 120 | 6st | Morriden | Valena, Silendria Keep | Slash/Cold | Damage specials |
| Runic Axe | 120 | 6st | Wolfmaster | Underdark, Crypt | Slash | |
| Sword of Dracon | 121 | 6st | Soulcrusher | Sherwood, Burial Chambers | Slash | Damage/heal specials |
| Drow Guards Sword | 125 | 6st | Drow Guard | Underdark, Ethelri-Cithan | Slash | |
| Giant Bearded Axe | 125 | 6st | Wandering Frost Giant | Aerdy, Boreal Forest | slash | |
| Golden Scimitar | 125 | 6st | Ogre Magi | Underdark, Crypt | Slash | Wears quickly |
| Guard's Sword | 125 | 6st | Various Guards | Aerdy, High Pass | Slash | Several different weapons with same name, only difference is in item desc |
| Wide Bladed Machete | 125 | 6st | Muncher | Aerdy, Erindar | Slash | |
| Sword of Light | 130 | 7st | Tawl | Valena, Silendria Keep | Slash/Holy | Positive alignment needed, damage specials vs Evil |
| Heavy Steel Falchion | 135 | 7st | Outlaw Warrior | Aerdy | Slash | |
| Heavy Sword | 135 | 7st | Bridge Guard | Aerdy, Erindar | Slash | Always Poisoned |
| Temple Guard's Axe | 135 | 7st | Temple Guard | Underdark, Ethelri-Cithan | Slash | |
| Temple Guard's Sword | 135 | 7st | Temple Guard | Underdark, Ethelri-Cithan | Slash | |
| Unholy Sword of Erindar | 135 | 7st | Gurrehmat | Aerdy, Erindar | Slash | |
| Light Elven Shortsword | 140 | 7st | Elessen Seaheart | Aerdy, Ruins of Moratherin | Slash | |
| Tarnished Waraxe | 140 | 7st | Cab Goodvein | Aerdy, Ruinds of Moratherin | Slash | |
| Sedran Bastard Sword | 145 | 8st | Captain Randor | Underdark, Ethelri-Cithan | Slash | Hybrid Blade/2H weapon. |
| Dwarven Waraxe | 150 | 8st | Various | Aerdy, Ruins of Moratherin | Slash | |
| elegant Rapier | 150 | 8st | "search clothing" | Aerdy, Ancient Tunnels | | |
| | 155 | | | | | |
| Blackrazor | 160 | 9st | Daltakar | Underdark, Ethelri-Cithan | Slash | Drains massive HP/XP from you if used on Undead, talks to you, Heals for 100 HP per kill. Never wears? |
| Pale Sword of Sorrows | 165 | 9st | Torturer | Aerdy, Nenreph Fortress | | |
| Obsidian Falchion | 165 | | | | | |
| | 170 | | | | | |
| | 175 | | | | | |
| | 180 | | | | | |
| | 185 | | | | | |
| | 190 | | | | | |
| | 195 | | | | | |
| | 200 | | | | | |